¿Global Business? Stravalue Playbook 3/3: Modelo 2020
Jose Rivera
Tras el post ¿Global Business? Stravalue Playbook 1/3: Introducción, y el post 2/3 Modelo Stravalue Global 2017, en este tercer post del itinerario situamos los contenidos del Programa estratégico de desarrollo de negocio global, Modelo Stravalue 2020.
Modelo Stravalue Global 2020
Proyectando el Modelo Stravalue Global 2017, ya analizado, en esta imagen presentamos el "Modelo Stravalue Global 2020", donde vemos el correspondiente puzle que describe gráficamente los 6 elementos integran las estrategias de desarrollo de negocio 2020: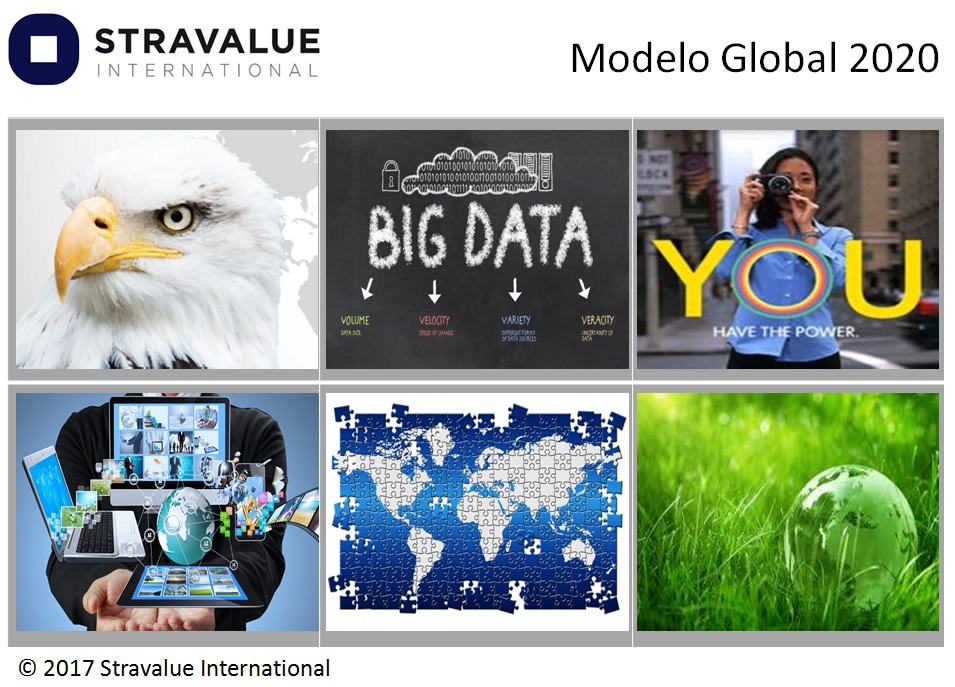 El modelo Stravalue Global 2020, se compone de 6 elementos integrados, como evolución del modelo 2017:
1. ¿Nuevos Mercados internacionales 2020? Mercados Eagles y Nest
Hay que seguir la evolución de los mercados emergentes, que siguiendo el informe del BBVA los calificamos de Eagles y Nest (ver el mapa y listado de estos mercados en Informe BBVA 2016 Mercados Eagles & Nest), y que son responsables del 78% del crecimiento global hasta el año 2024.
Mapa Mercados Emergentes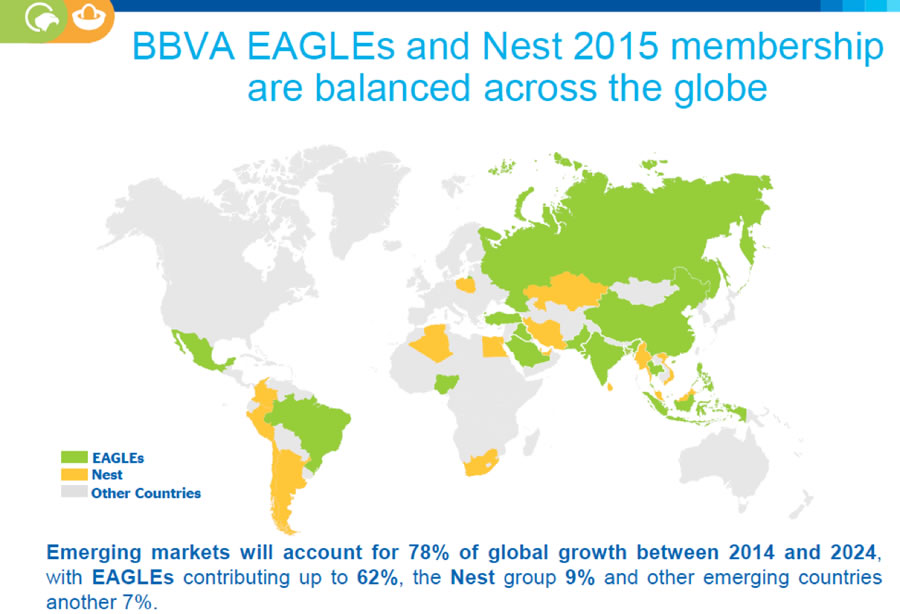 Fuente: Informe BBVA 2016 Mercados Eagles & Nest
Listado mercados emergentes Eagle y Nest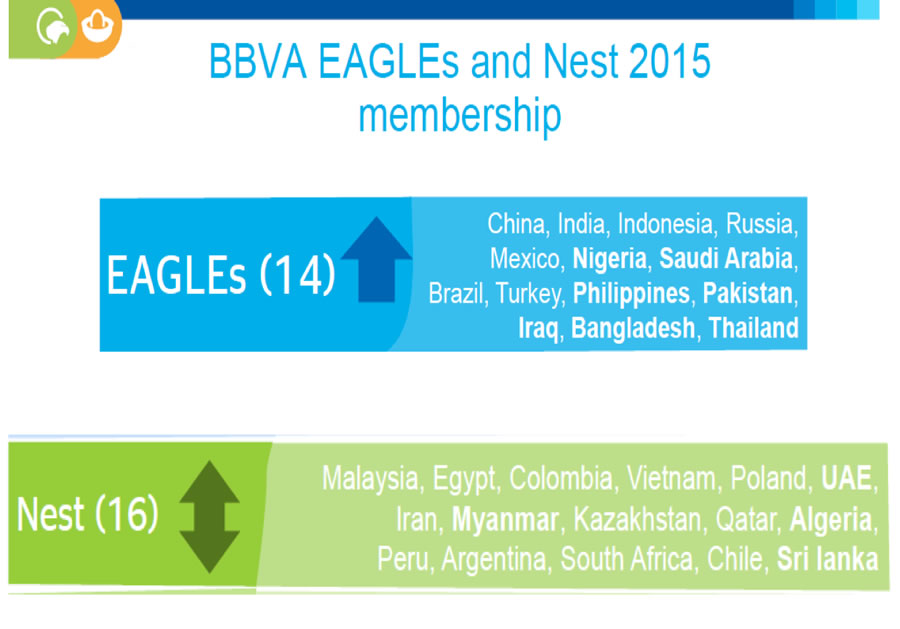 Fuente: Informe BBVA 2016 Mercados Eagles & Nest
2. ¿Nuevos procesos de negocio internacional 2020? Negocios internacionales en función de Smart Data
Referenciamos la vitalidad y significado de las herramientas Big Data para el desarrollo de negocio internacional, donde deben convertirse en International Smart Data, término de Stravalue, vs. el Big data, y que quiere poner el acento en la relevancia estructural de la información y la tecnología en el negocio internacional basado en el conocimiento y la gestión de oportunidades de negocio cambiantes, con toma de decisiones óptimas y a tiempo.
Herramientas Big Data 2016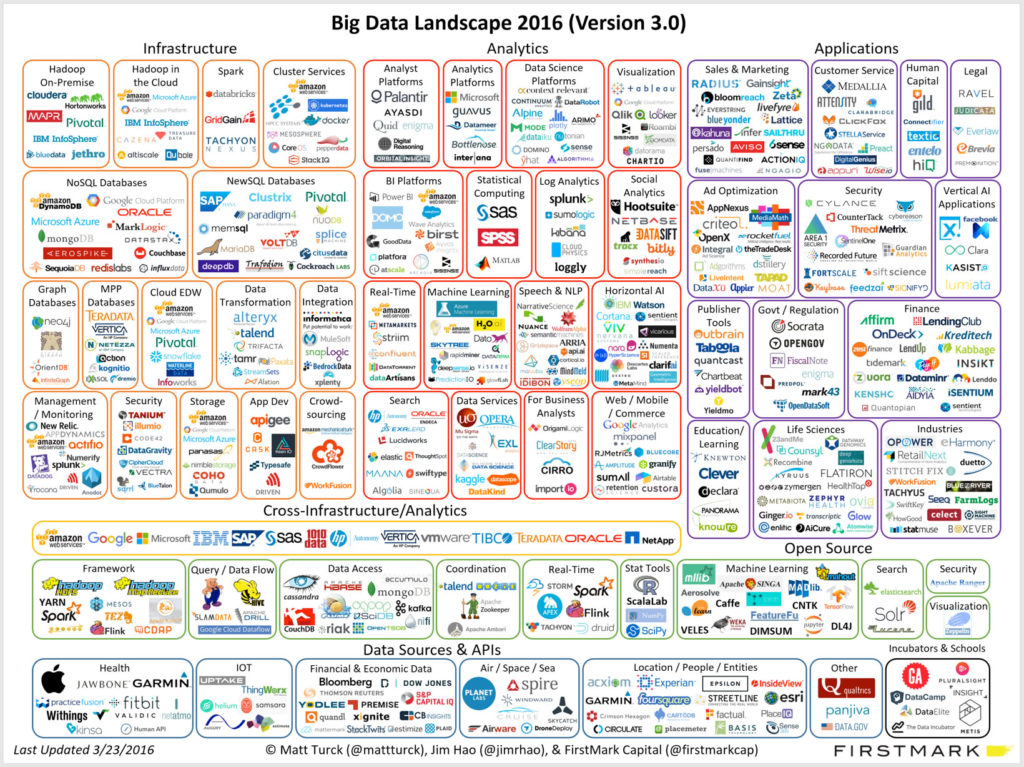 Fuente: Firstmark
¿Ejemplos de los beneficios del uso del Smart Data en el desarrollo de negocio internacional?
(1) Aceleración de Conocimiento de Mercados y Consumidores Internacionales / multi-segmentados
(2) Optimización de Logística y Operaciones Internacionales simplificando la cadena de distribución global
(3) Integración de la Información online para la toma de decisiones en cada escenario estratégico de toma de decisiones globales
3. ¿Segmentos internacionales 2020? Segmentos colaborativos de clientes y consumidores
Sí, en el modelo 2020, cada día tienen más peso en el desarrollo de negocio global, los prosumers y los negocios colaborativos. Sí, los prosumers (productores + consumidores), son los protagonistas tanto de la creación de contenidos, productos y servicios, con las marcas globales con quienes establecen conversaciones, como también son responsables del uso "compartido" de esos contenidos, productos y servicios, C2C, con otros prosumers y con los que crean Comunidad y Marca. Como ejemplo ver el evento OuiShareFest donde se presentan marcas de economía colaborativa global.
Marcas de Economía Colaborativa Global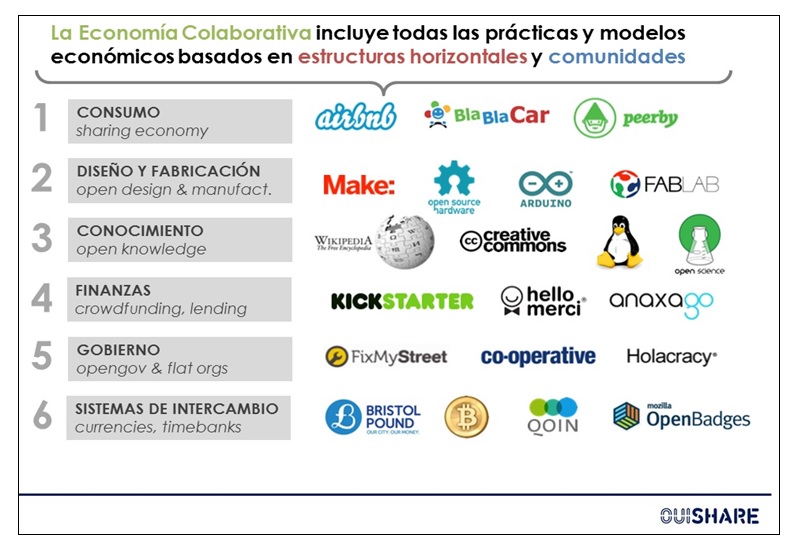 Fuente Ouishare
4. ¿Culturas 2020? Cultura digital
Si la cultura es la interpretación de la realidad, y distintas culturas interpretan la misma realidad de manera distinta, al plantearnos la cultura en los negocios en el 2020, debemos incluir la cultura digital como una cultura global, que integra otras culturas y facilita el intercambio y el desarrollo de negocio internacional. Referencio aquí a mi profesor de Digital Marketing en la Columbia Business School, David Rogers y su reciente publicación The Digital Transformation Playbook (2016), donde aporta una guía estratégica para integrar la cultura digital en la cultura de la empresa y así transformar el modelo de negocio con orientación global.
Guía para la Transformación Digital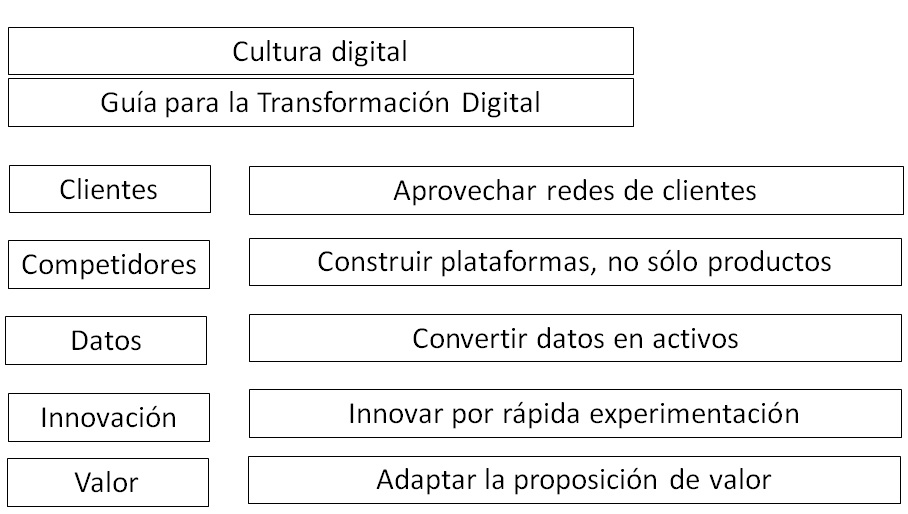 Fuente: Rogers, D. (2016) y elaboración propia. The Digital Transformation Playbook: Rethink Your Business for the Digital Age. Columbia University Press.
5. ¿Nuevos RRHH internacionales 2020: talento global? Talento geoestratégico
Sí, los nuevos responsables de desarrollo de negocio internacional, en todos los niveles de empresas (multinacionales y pymes), deben ser expertos en Geoestrategia y Geo-Marketing, pues hoy la globalización y la interconexión entre la geopolítica, y la economía internacional, condiciona en un entorno especialmente incierto 2017-2020, (pero seguro lleno de oportunidades, también cambiantes), las decisiones de estrategia de gestión del negocio global de las empresas. Ver el artículo del World Economic Forum: Donald Trump's first 100 days: what's in the in-tray?
Cambio en la Presidencia de Estados Unidos 2017-2020.
¿Cambios en Geoestrategia, Economía Internacional y Globalización?
Fuente: REUTERS/Carlo Allegri
6. ¿Nueva marca global? Marca social global
Sí, la marca global 2020, será social o no será marca, es decir la marca 2020 en el Modelo Stravalue Global 2020, integra una nueva dimensión para responder a la pregunta ¿Qué contribución neta social-económica, cultural-educacional y medioambiental aporta la Marca Global a sus Stakeholders Globales y Locales?.
Para responder aportamos la imagen Responsabilidad Social Corporativa Global (RSC Global), con los contenidos de la RSC Global, y ver también la imagen final del modelo de marca global 2020, con énfasis en las emergentes dimensiones: Digital, Cultural y Social.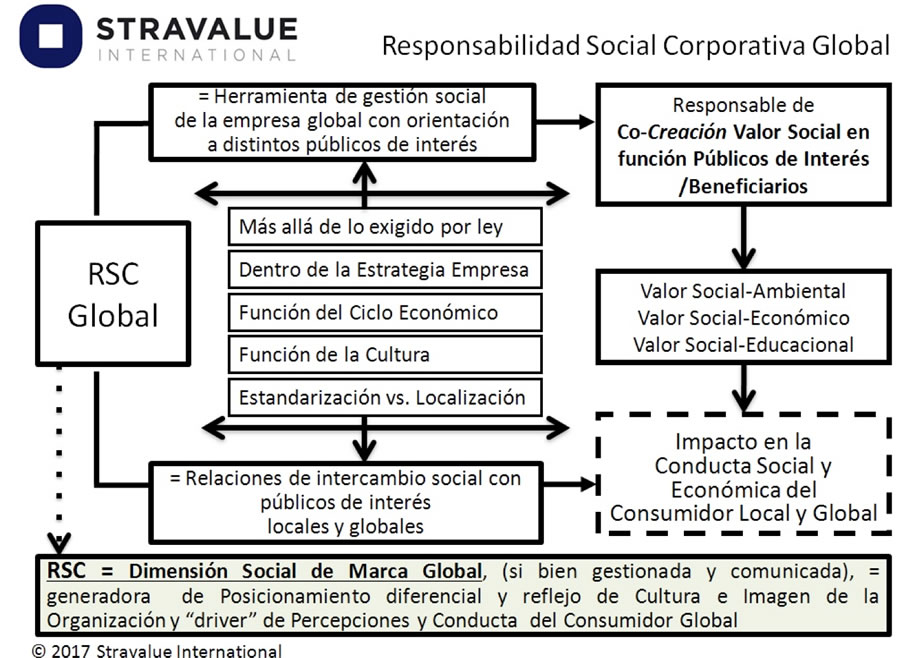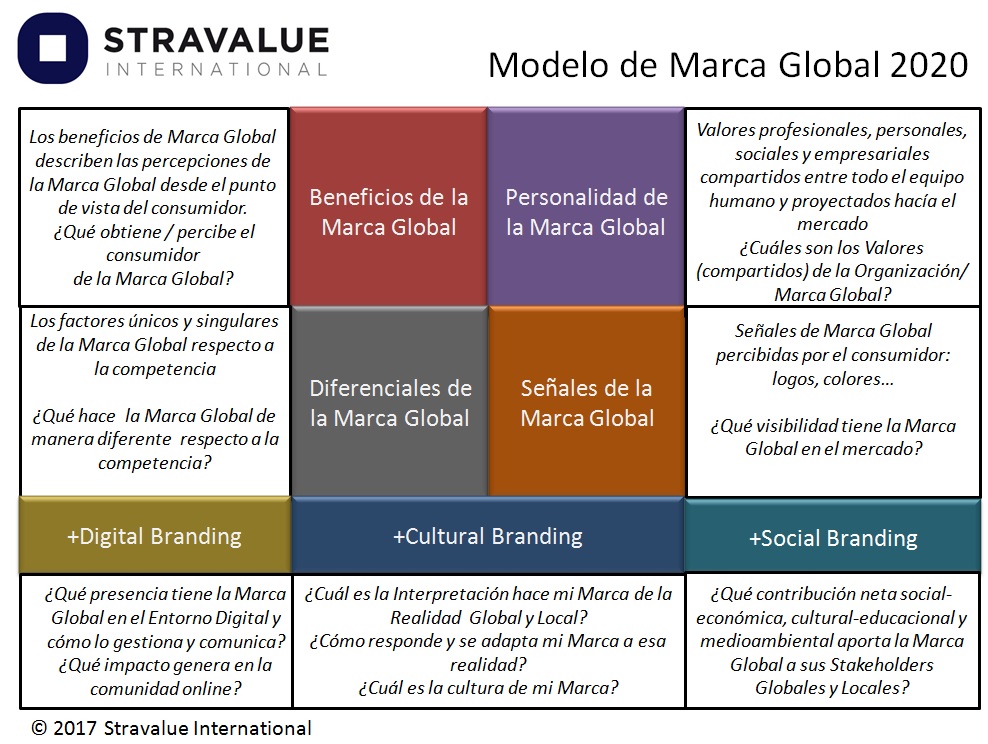 Gracias por feedback y compartir experiencias de Global Business.
Keep in touch.
José Rivera
CEOStravalue International
jose.rivera@stravalue.com