¿Global Business? Stravalue Playbook 1/3: Introducción
Jose Rivera
¿Global Business 2020? Vamos a compartir con ustedes, fruto del trabajo con nuestros clientes de Stravalue International, nuestra propuesta de Modelo Stravalue (que tiene como herramienta complementaria los Stravalue International Key Drivers y nuestro Blog post 2016 International Key Drivers: Casos Prácticos) para construir un Programa (itinerario), de desarrollo de negocio global a Enero 2017 y con horizonte 2020.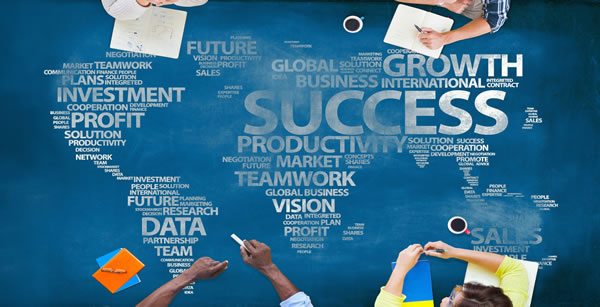 Para dar respuesta a la pregunta, ¿Global Business 2020? vital para incrementar el valor de nuestro negocio y marca a nivel global, planteamos el siguiente itinerario, que motiva 3 blog posts consecutivos, bajo los títulos de:
¿Global Business? Stravalue Playbook 1/3: Introducción
¿Global Business? Stravalue Playbook 2/3: Modelo 2017
¿Global Business? Stravalue Playbook 3/3: Modelo 2020
En este primer post, planteamos la lógica del itinerario en 3 capítulos, y luego nos centramos en las tendencias de marketing digital a 2017.
Posteriormente en el segundo post del itinerario, presentamos los contenidos del Programa estratégico de desarrollo de negocio global, bajo el título: Modelo Stravalue Global 2017 – aquí os adelantamos la descripción gráfica del modelo 2017, que trataremos en más detalle en nuestro segundo blog post.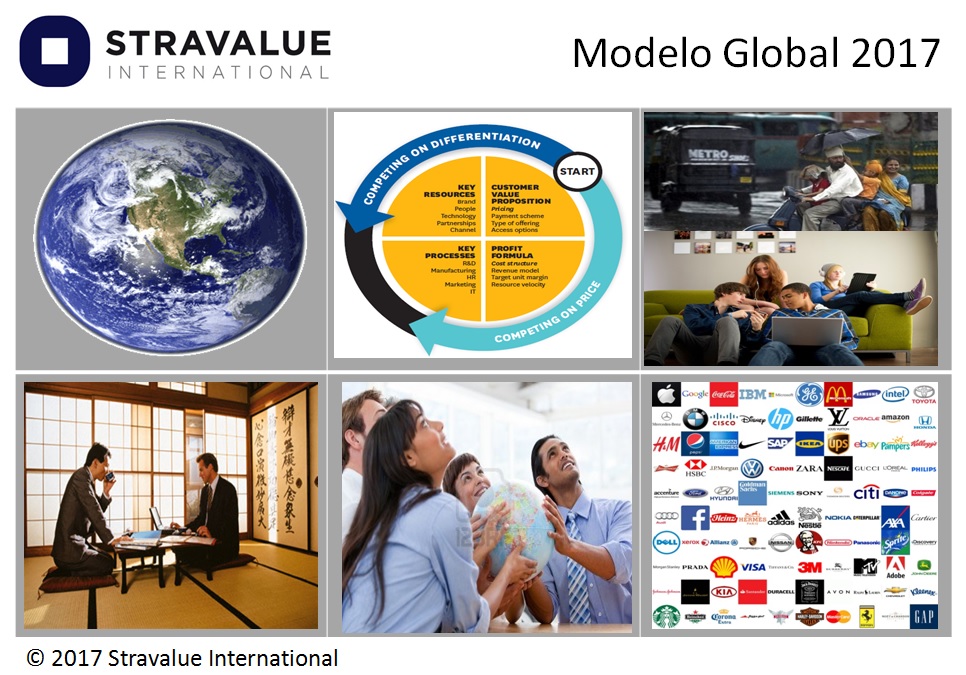 Y finalmente en el tercer post del itinerario sitúo los "nuevos" contenidos que proyectan y refuerzan los contenidos del Modelo Stravalue Global 2017 hacia el 2020, le llamamos Modelo Stravalue Global 2020 – y aquí os adelantamos la descripción gráfica del modelo 2020, que trataremos en más detalle en nuestro tercer blog post.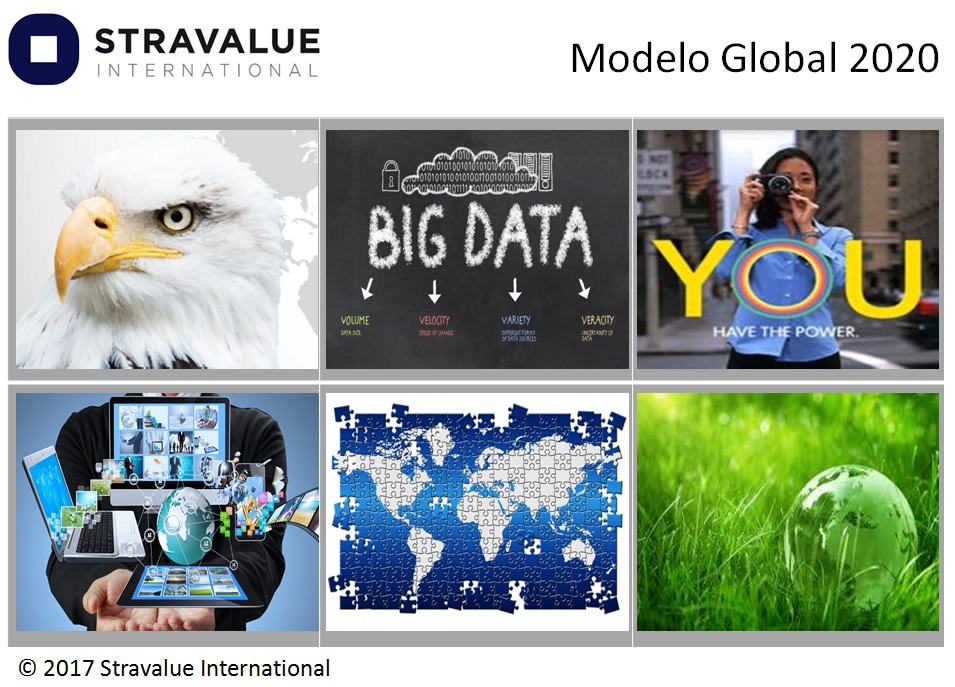 Sí, en Stravalue International, consideramos que Global Business es el Proceso de Creación de Negocio (Valor), Global estable y rentable, en otros mercados y desde otros mercados, pues hoy cuando se habla de internacionalización desde la perspectiva de desarrollo (proceso), del negocio global, este desarrollo puede ser tanto respecto a marca, ventas y clientes nacionales e internacionales, como respecto a la gestión global de la cadena de suministro; en uno y otro caso, hoy Enero 2017, el objetivo es la mejora del posicionamiento competitivo (nacional + internacional), global en un único mercado, compuesto por mercados regionales y locales intercomunicados, y tecnológicamente en proceso de integración.
Y para el desarrollo de negocio global necesitamos Estrategia, respondiendo a las siguientes cuestiones:
¿Estrategias de negocio global? ¿Cuál es nuestro negocio global hoy? ¿Cuál debería ser?
¿Cuáles son los componentes necesarios para técnicamente dotarse de un Programa estratégico de desarrollo de negocio global con horizonte 2017-2020?
¿Cuáles son las nuevas realidades en Tecnologías de la Información y de las Comunicaciones y en Digital Marketing que van a acelerar los componentes del Programa estratégico de desarrollo de negocio global, mientras generan integración en negocios y relaciones de intercambio B2B, B2C y C2C?
Adelanto que los contenidos del Modelo Global 2020 (ver también el post blog de Stravalue ¿Nos trasladamos en el tiempo a Febrero de 2020?), responden a la misma lógica del Modelo Global 2017, y son una evolución del mismo teniendo en cuenta las tendencias que considero van a hacer evolucionar y transformar (enriquecer), los contenidos del Modelo Stravalue de negocio global.
En otras palabras los dos modelos, a través de dos fotos instantáneas una realizada hoy para el 2017, y otra diseñada hoy para el 2020, integran los contenidos:
Mercado_Mercados
Negocio_Modelos de Negocio
Consumidores_Conducta del Consumidor
Cultura_Culturas
RRHH_ Talento y Competencias
Marca_ Dimensiones de Marca
Y asumimos en Stravalue, pues es el contenido principal del trabajo con nuestros clientes, a quienes asesoramos en desarrollo de negocio internacional (en todas sus dimensiones), con foco en marketing y orientación global, que periódicamente actualizaremos los contenidos de los modelos y/o añadiremos nuevas dimensiones / contenidos a ellos.
Marketing Digital y Negocio Global 2017-2020
Tanto en el modelo 2017, como en el modelo 2020, el marketing digital, con apoyo en las tecnologías de la información y las comunicaciones (marketing y TIC consideramos en proceso de integración), está presente y se filtra en todos los contenidos de los modelos Stravalue de negocio global.

Fuente: www.brid.tv
Para ello, compartimos desde el Marketing Internacional (nuestra especialidad), enfoques como los de Jeff Bullas sobre Digital Marketing Trends, Brid TV sobre Tendencias a seguir en 2017 y Social Media Trends, y David Rogers sobre los Clientes como Networks y sobre la Digital Transformation de los negocios donde hacen énfasis desde la globalización y tecnología y el marketing en:
"Nos globalizamos o nos globalizan": las nuevas tecnologías ya "globalizan" los negocios
Ser comunidad de consumidores global y local
Adaptar propuesta de valor a Global_Local (Glocal) y a Offine_Online (Crossline) = adaptar – personalizar oferta ante lo global y lo digital
Cultivo de servicios online
Ominicanalidad: Bienvenidos múltiples canales y sinergias entre todos ellos: Practicar una estrategia de marketing Multicanal, no sólo digital
Medir el retorno de la inversión en tecnología
Importancia creciente de los activos digitales y activos de información
Invitar a crear a los prosumers: creación de contenidos para las marcas a partir de experiencias y propuestas de los usuarios de las marcas…y creación de contenidos con tiempo de expiración…
Crecimiento de la inteligencia artificial ("artificial intelligence era… It's all about embedding human smarts in machines…") aplicada al marketing digital, por ejemplo en los robots (al alcance de todas las empresas), de gestión de contenidos y automatización de procesos y de los chatbots (Chatbots are a conversational agent that is designed to simulate intelligent conversation without a human being present).
Relevancia del marketing de contenidos personalizado
¿Big data? Smart data (volumen + velocidad + variedad + veracidad + saber que se quiere del data…), como base de la toma de decisiones
Plataformas digitales para todos los negocios
Crecimiento del social media como herramienta de comunicación "de pago"
Despegue de los Marketing Influencers y la inversión en sus Blogs y opiniones
Realidad virtual es real
Mobile apps para todos los negocios
Pantalla del móvil la principal pantalla
Tecnología wearable da sus primeros pasos
Live streaming videos, liderando nuevas herramientas de comunicación
Social media transforming business in a trust economy: Transparencia de marca (que vive en digital y donde la esfera de lo privado se ha reducido…), como plataforma para generar confianza en la marca
Relevancia de equipos humanos con competencias Cross-cultural y Cross-line (offline y online)
Recapitulando sobre nuevas tecnologías y desarrollo de negocio global (nacional + internacional), subrayar que el entorno es el cambio, y el cambio con orientación al mercado global se estructura sobre la tecnología inteligente, es decir la tecnología útil para reducir distancias, facilitar las comunicaciones, construir relaciones con proveedores, clientes, RRHH, partners, competencia, instituciones… y generar conocimiento especializado y asumible, como inversión apropiada para cada empresa en el mercado global.
Sigue nuestro Global Business Stravalue Playbook, con nuestros próximos posts ¿Global Business? Stravalue Playbook 2/3: Modelo 2017 y ¿Global Business? Stravalue Playbook 3/3: Modelo 2020, que publicamos en las próximas semanas.
Gracias por feedback y compartir experiencias de Global Business.
Keep in touch.
José Rivera
CEOStravalue International
jose.rivera@stravalue.com